Ahmad Zeidan: Family hope for student's UAE jail release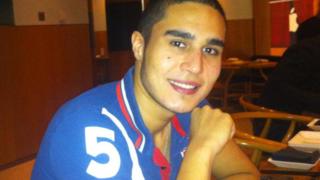 The family of a British student jailed in the United Arab Emirates are hoping for his release after his sentence was reduced from nine years to seven.
Ahmad Zeidan was jailed in 2014 after 0.04g of cocaine was found in a car in which he was a passenger. He has claimed he was innocent.
It is understood the Foreign Office will now help in seeking options for a release or pardon.
Zeidan's father said he hoped his son's "traumatic sentence" could now end.
Hunger strike
Zeidan, now 23 and formerly from Reading, was studying at Emirates Aviation College when he was arrested.
He claims he was tortured into admitting drugs charges. All the local men in the car were given pardons, but Zeidan was jailed in a Sharjah prison.
Zeidan recently went on a three-day hunger strike and an appeal for a royal pardon was unsuccessful.
But following a high court appeal and a change in UAE drug laws, Zeidan's sentence was reduced on 4 October.
His father, Manal Zeidan, said the Foreign Office had promised to "make a formal communication to the UAE to clarify the options available for Ahmad should he succeed in getting his sentence reduced".
The BBC understands that the Foreign Office will contact local authorities to assist in the quest for a pardon or release.
A Foreign Office spokesman said he was unable to comment on individual cases, but said the Foreign Office continued "to regularly raise this case with the UAE government".
Mr Zeidan said his son would "restart his hunger strike if the Foreign Office does not keep its promise to act on his reduced sentence".
UAE authorities have denied allegations of torture.