Swan survives 'air gun shot' to head in Windsor attack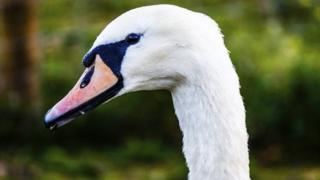 A swan has survived being shot in the head with an air gun pellet on the banks of the Thames, a charity has said.
An animal rescuer found the male bird after being sent to an area of the river near Barry Avenue in Windsor on Monday morning.
Wendy Hermon, from Swan Support, said the cob was "subdued", but expects it to fully recover.
Thames Valley Police has been approached for comment.
The charity, which released a picture of the swan's injuries, said witnesses should contact the force.
Warning: This story contains a graphic image that some readers may find upsetting.
Ms Hermon said the swan was shot with an "air gun pellet that had gone right through its head".
In January, 12 swans were attacked in Windsor with air guns and slingshots.
"I am lost for words as to why people do this" added Ms Hermon, "I've run out of things to say because it is so awful."
"I want people to be aware of it, because people are walking round with guns".