Reading council branded 'incompetent' after accounts gaffe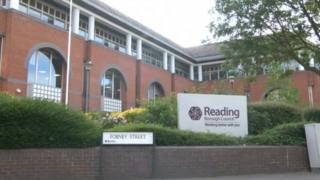 A council which failed to file its annual accounts on time has been described as having a "horrible stench of financial incompetence" by an MP.
Labour-run Reading council admitted the error in a document ahead of a meeting of its audit committee.
Reading West's Conservative MP Alok Sharma said the town's residents would "suffer" from the authority's mistake.
The council apologised for the "failure" and has appointed an "interim manager" to resolve the issue.
'Failed to get a grip'
Mr Sharma told the BBC: "The fact that the council won't submit its accounts for appraisal by its auditor is absolutely shocking and despite repeated warning has failed to get a grip of its finances."
He had earlier tweeted there was a "horrible stench of financial incompetence".
The issue came to light in a report written by Reading council's finance director Peter Lewis.
He said the 2016-17 accounts had not been delivered due to "fundamental problems in the preparation" which meant external auditors were unable to offer an audit opinion.
Mr Lewis added the council's finance team had suffered from "a lack of capability in some areas, especially technical accounting".
"It is therefore now essential that we react at pace and with clarity to address the improvements needed to our systems, processes and skills," he said.
Reading Borough Council's chief executive, Peter Sloman, said: "I would like to apologise to councillors and the public for the failure.
"It is my job to ensure the changes we are bringing in mean this cannot happen again, and to be accountable for the performance problems."