Protests over future of Reading black culture mural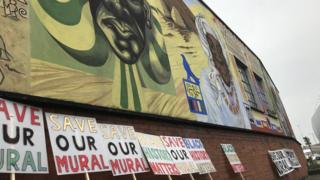 Protests have taken place after community groups accused a council of wanting to sell its "spiritual home".
Reading Central Club, which features a black history mural, has been shut since 2006 - prompting the council to invite bids from non-profit groups.
The 100 demonstrators argued the mural, and therefore the contribution of black people in the town, is under threat.
Reading council claimed "misinformation" was blocking a "sensible discussion" with residents.
The club, which had been at the heart of Reading's black community since 1978, has been closed since 2006 following a police drugs raid.
Reading council announced it was putting the town's Central Club up for sale on the open market after bids from community groups failed.
This prompted concerns the 27-year-old, 36m-long artwork on the side of the building could be scrapped.
Martin James, who helped paint the mural in 1989, said it was "not just a piece of artwork, but a message about culture, history and love".
"It's a beautiful piece of work, it helps people work out what black history is about, and has a story to tell".
However, authority leader Jo Lovelock said "rumours" about the nature of the bid were blocking meaningful dialogue between the council and community groups.
"I'm disappointed we cannot share publicly the details of the bid because the information sent out has not always been accurate," she said.
The council added it remained "fully committed to securing the mural's future".