Swan 'shot and has neck snapped in two' in Reading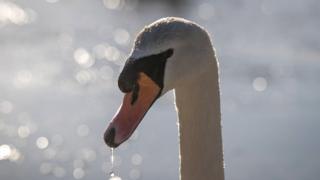 A swan has been shot and had its neck wrung in what a charity said was the worst attack it had seen in 25 years.
An animal rescuer found the dead bird after being sent to Blake's Lock on the River Kennett in Reading on Monday.
Wendy Hermon, from Swan Support, said: "The poor thing was shot in the head and its neck was literally snapped in two."
Thames Valley Police confirmed it had been reported and asked for witnesses to come forward.
Ms Hermon said the charity received "a call from a man who says he saw two fishermen near a group of swans at Blake's Lock", and [the caller] thought they had done something.
"The rescuer who went to pick up the animal says it's the worst attack they had ever seen - and we've been doing this for 25 years," she added.