Huntley and Palmers 1927 FA Cup biscuit trophy auctioned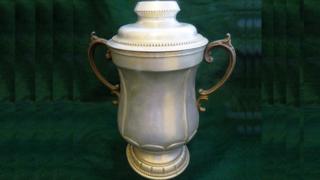 A 90-year-old biscuit tin shaped like the FA Cup and with its original baked goods inside has been auctioned.
Only a handful of the Huntley and Palmers tins were made in anticipation of Reading FC reaching the 1927 final.
However, they were never put into full production after the Berkshire side lost 3-0 to Cardiff in the semi-final.
The trophy replica was owned by a family which inherited it from a neighbour 30 years ago. It has sold at auction for £380.
Chris Boreham, director Thimbleby and Shorland auctions, said the aluminium cup was bought by a Reading-based buyer.
He said only "a very limited number" of cups were made and none of the other surviving examples are thought to contain the original Empire Assorted biscuits.
Huntley and Palmers started in Reading, and was so closely associated with its local club that Reading FC became known as The Biscuitmen, he said.
The real FA Cup trophy, which the biscuit tin was modelled on, was valued at £1m on the Antiques Roadshow in 2016.
Huntley and Palmers was established in 1822 and at its height traded in 137 different countries, leading to Reading becoming known as Biscuit Town.