Plans for 245 houses in Eye and Dunsden rejected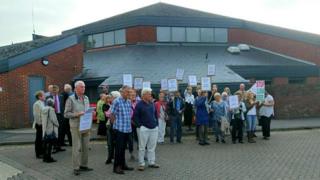 Protesters embroiled in a year-long campaign against plans to build 245 houses in a small parish are "overjoyed" the bid was rejected.
Campaigners said the development at Eye and Dunsden near Reading would have "tripled" the population and put a strain on schools and roads.
Councillors agreed with their objections on Thursday night, despite recommendations to approve the plans.
Developer Gladman is expected to appeal the decision.
Seven neighbouring parish councils and Reading Borough Council opposed the plans and 342 people had submitted objections.
Planning officers had recommended the application be approved because of the need for extra housing.
Campaign Against Gladman in Eye & Dunsden (CAGE) bussed in 120 protesters to the meeting in Didcot, where South Oxfordshire District Council's planning committee said the 13 hectare (33 acre) site would add unsustainable pressure on schools, transport and medical services.
CAGE chairman David Woodward, who is also leader of Eye & Dunsden parish council, described the result as "absolutely tremendous".
He added: "It's a marvellous victory for all of the people who have been working so hard for a year to get this result. We're all overjoyed.
"It shows how much can be achieved if people get involved in fighting for something they believe in. A great result for people power."
A Gladman spokeswoman said: "Unfortunately nobody is available to comment."