Bracknell's £240m town centre rebuild unveiled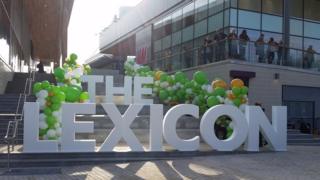 The £240m redevelopment of Bracknell town centre has been unveiled following the completion of a five-year construction project.
The new one million sq ft (93,000 sq m) Lexicon centre includes 70 new shops and restaurants and a cinema.
A third of the old town centre, built as part of a new town development in 1949, was demolished after criticism of its Brutalist architecture.
The project also involved renovating a nearby 15th century pub.
Bracknell resident Catriona Adams, who was one of hundreds of shoppers waiting for the centre to open, said she was "excited" about the Lexicon.
She added: "We don't often get exciting things happening in Bracknell, I've been waiting for over two decades for this to appear so I'm really pleased it's finally happened.
"We've been going to Reading for the last 10 years because the shops here had slowly gone down and down, but I think definitely people in this area will start coming back to Bracknell."
Original Bracknell architect sees his design demolished
Time-lapse video shows revamp of Bracknell town centre
In pictures: Bracknell's Brutalist architecture captured
The regeneration includes the modernisation of existing shop facades, nearly 4,000 car parking spaces and improvements to local transport.
Leader of Bracknell Forest Council Paul Bettison said: "To see this is to love it. The fact that we've achieved this, this gives us more to build on."
Bracknell was originally built to help alleviate the post-war housing shortage, having been designated as one of 10 new towns to be built around the country.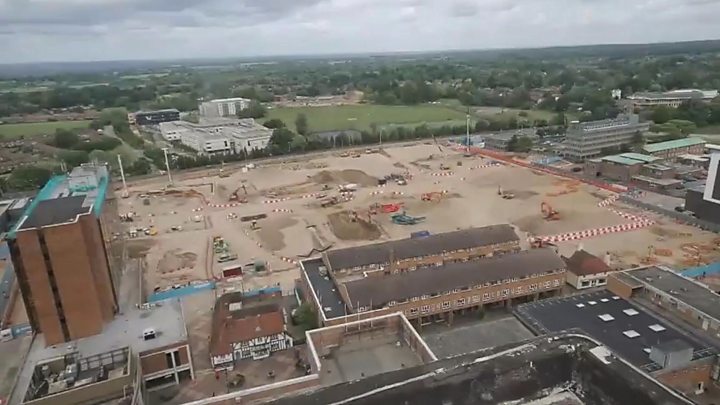 But civic chiefs decided more than 15 years ago that the amenities looked dated and would struggle to attract fresh investment unless dramatic changes were made.
The scheme was funded privately, with firms Legal and General and Schroder UK Real Estate Fund meeting the cost of the renovation.
The redevelopment did not focus entirely on new buildings, with The Bull public house, a Grade II listed landmark which stands just metres from the site, being restored and extended.