AWE Trident workers vote to end pensions dispute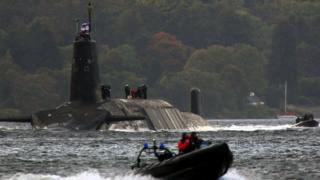 Workers at a nuclear warhead factory in Berkshire have voted to end a long-running dispute over pensions.
Members of Unite union have been staging a series of walk-outs at the Atomic Weapons Establishment (AWE) since November 2016.
The union claimed AWE "broke promises" after the pension scheme was moved from the public sector in the 1990s.
AWE, which has facilities in Burghfield and Aldermaston, said it was pleased the dispute was over.
A company spokesman said: "Our commitment has always been to providing staff and prospective employees with sustainable and affordable pension provision for the future."
Unite said it had nobody available to comment on the settlement.