Reading council to sell black community's 'spiritual home'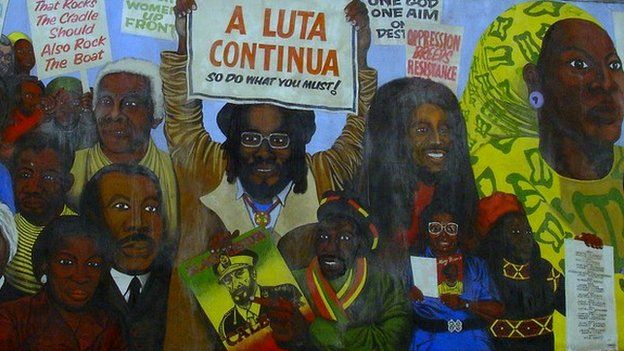 A community group representing black people has accused a council of wanting to sell off its "spiritual home".
Reading Central Club, which features a black history mural, has been shut since 2006 - prompting the council to invite bids from non-profit groups.
Community company Aspire offered to buy it at "fair market value" as part of a £10m investment package.
But Reading council said it needed a specific cash sum and had elected to sell it on the open market instead.
It rejected all bids after saying it "couldn't be satisfied that any of the bids received represented best value for council taxpayers in the current financial circumstances".
The club has been at the heart of the town's black community for about 40 years and its 36-metre long mural is a well-known attraction.
Aspire revealed details of its bid at a meeting earlier after the council declared the group had not "offered the council any money to acquire the property".
At the meeting Aspire showed pages from its originally confidential bid showing an offer in writing to buy the property at a "fair market value".
It revealed plans for a new property on the site which would preserve the mural, and would have three floors for community use, with higher floors for affordable student accommodation.
The company also accused the council of "intending to knock the mural down" as it would increase the value of the property for private developers.
At the meeting, Aspire chairman Keith Kerr said: "The council has been disingenuous and have embarked on a process of dissembling our bid".
In a statement, the council said it recognised "the importance of the mural to the African-Caribbean community" and was "committed to securing the mural's future".
The statement added: "Aspire has offered Reading Borough Council no cash sum to acquire the property.
"All bidders - including community, voluntary or not-for profit groups - can either carry forward their existing bids, or put in a fresh offer for the building.
"That opportunity extends to Aspire as well. The final decision would take into account any community value, as well as the financial offer itself."
Related Internet Links
The BBC is not responsible for the content of external sites.