University archaeologists hunt for ancient mound clues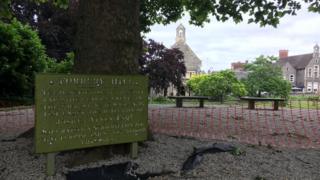 Archaeologists have drilled inside an ancient mound in the hunt to uncover the true reason it was built.
The University of Reading team are carrying out radiocarbon analysis on Forbury Hill, near Reading Abbey.
A borehole has been drilled down to the base of the hill to gather evidence from the material, such as charred seeds or pollen.
Dr Jim Leary, an archaeologist at the university, said they "hope to fill a gap in Reading's history".
The team are drilling three metres down to the base of the mound, based in Forbury Gardens, to remove core samples.
The samples will be carbon dated to allow an accurate estimate to be made as to when it was first created.
It has been previously speculated that the hill was built to fortify Reading Abbey in the 12th century, while there is the possibility that it is in fact a rare Saxon burial mound.
Dr Leary added: "Thousands of people will have trodden the paths without realising they may be walking on history.
"We hope to provide a long-awaited answer to the question of when this landmark was created, and by whom."
Last year, the team found that a motte in Skipsea, East Yorkshire, originated in the Iron Age.