Images released after Ealing Broadway homophobic attack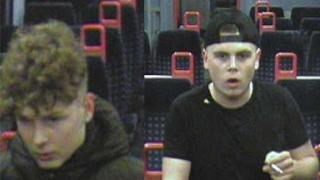 Images have been released after a couple were attacked by homophobic youths travelling from Reading to London.
Phillip Poole was travelling with his partner after a night out on Valentine's Day when they were punched in the face by "four or five men".
Mr Poole, who lives in Maidenhead, lost two teeth in the attack and suffered bruising and cuts.
Police said they were investigating the incident at Ealing Broadway Station.
Investigating officer, PC Peter Taylor, said: "This was a very nasty assault committed by a group of men who attacked two other men while they were sleeping on the train. The victims believe the motivation for the attack was that the offenders thought they were gay."