Reading Lido opening: Thames Water denies 'delaying tactics'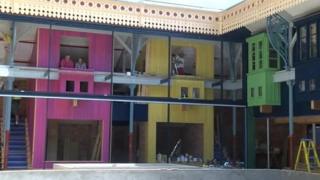 Reading's revamped Edwardian Lido may miss its 2017 summer opening due to what have been described as Thames Water's "delaying tactics".
Arne Ringmer is overseeing the £3m refurbishment of Kings Meadow Grade II-listed lido, which has not been used for more than 40 years.
He says work is 85% complete, but he has been waiting 18 months for a sewage connection by Thames Water.
Thames Water says the work will be ready in "good time" for the opening.
'Nothing happens'
In a statement the company said: "The work we'll be doing on our sewer network will not impact the development of the lido as we'll be working a good distance away from it.
"The sewer system will be ready in good time for the planned opening but can be prepared at shorter notice with a temporary pump should the lido open earlier than planned, so there won't be any delays to the project due to the sewers."
Mr Ringmer, of Thames Lido Ltd, said he had been receiving assurances for weeks that Thames Water would start work but "nothing happens".
"It's a few months' work they have to carry out, and when I tell them we're only months away from opening it's very, very frustrating."
Kings Meadow Lido in Reading - which was built in 1903 - will include a new pool, spa and restaurant when it opens.