Atomic weapons workers vote to accept pensions offer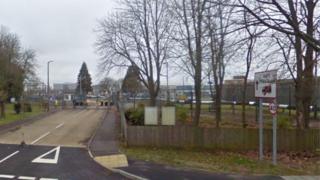 Workers at the Atomic Weapons Establishment (AWE) have voted to accept a final offer over pensions after a long-running dispute.
Members of Prospect backed the deal by 59%, although the union said workers had been treated "appallingly" over the closure of the defined benefit scheme.
Prospect members held a one-day strike at the company's Aldermaston site last year.
An AWE spokesman said the new pension scheme was "very competitive".
The spokesman added: "Improvements have been made to the new scheme and additional enhanced benefits have been included."
Prospect negotiator Richard Tabbner said: "Members secured significant improvements to the pension proposals through their industrial action.
"However, it is extremely disappointing that industrial action was needed to secure most of the improvements."
The Unite union remains in dispute with the company.
Unite said "iron-clad promises" were broken after the pension scheme was moved from the government to the private sector in the 1990s.
Unite staged two 48-hour strikes in its dispute over pensions in January.