Royal Mail releases new Windsor Castle stamp set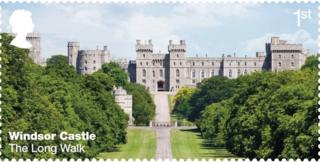 A new set of stamps featuring images of Windsor Castle is being launched to celebrate the "grandeur" of the royal residence.
Royal Mail said the 10 stamps were a "photographic celebration" of the castle.
The stamps feature images of the castle's exterior as well as its interior rooms.
One stamp features an image of St George's Hall which was restored after a fire in 1992.
Philip Parker, stamp strategy manager at Royal Mail, said: "Windsor Castle is one of the most famous buildings in the world and has been a family home to kings and queens for almost a thousand years.
"Our new stamps celebrate the grandeur of this royal residence."