Sunningdale accordion shop targeted in third raid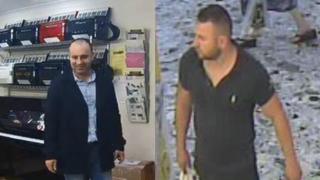 Accordions worth £150,000 have been stolen during three burglaries at a music shop over a six-month period.
Police have released images of two men they want to speak to after The Piano and Accordion Shop in Sunningdale, Berkshire was raided in January and February 2017.
Accordions worth £20,000 were stolen during the February break-in.
Forty of the instruments, worth £130,000, were previously taken from the shop in August last year.
Thieves tried to gain access to the store again on 30 January, but failed.
However, burglars managed to remove a window frame and damage security shutters to successfully break-in on 4 February.
In the raid they took accordions worth £20,000. Police believe the thefts are linked.
Officers have released a CCTV image of a man wearing jeans and a jacket, who they believe may have vital information about both thefts.
They believe another man, pictured in a black T-shirt, may have links to the Port Talbot area of South Wales.
Other CCTV images were released in November 2016.
Bev Lovell, whose accordion playing grandfather founded the company in 1927, had previously described the August theft as "highly professional".
He said they had targeted top merchandise including expensive instruments handmade in Italy which could take up to a year to replace.