Couple accidentally dump slow cooker containing £1,500 savings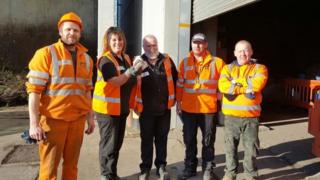 A couple who hid £1,500 of savings in a slow cooker disposed of it at a dump by accident.
The couple discovered the mistake two days later, when the husband asked his wife where the money was as he wanted to deposit it at a bank.
The pair rushed to Bracknell Recycling Centre, where staff spent two hours picking through waste to retrieve the money "note by note".
The centre said more than £1,300 of the lost cash was recovered.
A spokeswoman for waste partnership re3 said the error was made last month while the husband, who does not want to be named, was doing a "January tidy up".
She said the couple had written a thank you letter to the team, praising them for "stopping at nothing".