Reading Abbey restoration: Contractor hired for £3m project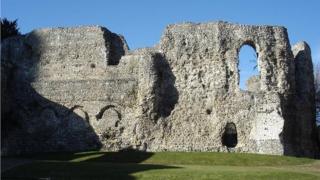 A contractor has been appointed to undertake a £3m restoration project at the ruins of a 900-year-old abbey.
CRL Restoration will begin conservation work at Reading Abbey in February, the borough council announced earlier.
The site was closed to the public in 2009 due to the "poor and rapidly deteriorating condition of the walls".
Reading council said it was now "another step closer" to its ambition of reopening the ruins by 2018.
The announcement came after the authority's Reading Abbey Revealed project was awarded £1.77m of Heritage Lottery funding.
The council has committed a further £1.38m and said it would also provide educational activities and events at the town centre ruins.
More than 1,000 residents responded to an online survey in 2014 about how to best use lottery funding for the historic abbey site, which was founded by Henry I in 1121.