Nuclear workers hold 48-hour strike in pensions row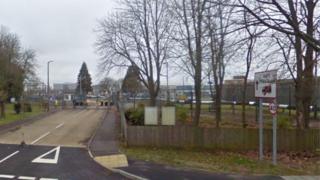 Hundreds of workers at a nuclear weapons company are staging the first of two 48-hour strikes in a dispute over pensions.
The Unite union says 600 employees at the Atomic Weapons Establishment (AWE) have walked out at the Aldermaston and Burghfield sites in Berkshire.
A strike is also taking place on 30 January after 92% of staff voted for action.
AWE said it had "resilient" safety measures in place.
'Deeply betrayed'
Unite said its members felt "deeply betrayed" because of "broken" promises made to workers in the early 1990s when pensions were moved from the Ministry of Defence (MoD) to the private sector.
Members would be thousands of pounds worse off in retirement under the new scheme, it claimed.
It has called for the MoD to take back the pension scheme.
AWE said in recent weeks improvements had been made to the new pension, and additional benefits included.
The company said the existing pension scheme would be closed on 31 January, and all members enrolled into the new scheme on 1 February.
Workers have already held two days of strike action, on 14 November and 6 December 2016, in response to the changes.
Picket lines will be mounted outside the sites.