University of Reading unveils plan for £50m building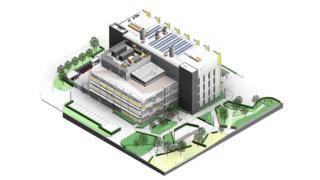 Proposals for a new £50m academic building have been unveiled by the University of Reading.
The four-floor construction would replace the institution's engineering block which is set to be demolished.
It will house the health and life sciences department and become the new site of the Cole Museum of Zoology.
The building planned for the Whiteknights campus is expected to be completed by summer 2019 subject to planning permission.
The university released an image of the plan on Tuesday ahead of submitting a formal application to Wokingham Borough Council.
It said the "world class" facility would contain 24,793 sq ft (7,557 sq m) of laboratory and teaching space.
The project forms part of a wider £400m capital investment programme.