Reading homeless bus hoped to be operational by new year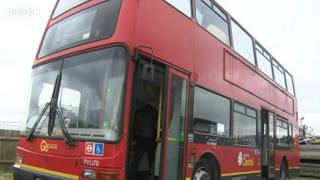 Members of a Christian group who are converting a bus into accommodation for homeless people say they are "heartbroken" it is not ready in time for Christmas.
The Ark Project will provide bed pods for up to 10 rough sleepers in Reading as well as support services.
Michael Longsmith came up with the idea and raised sponsorship to buy the second-hand London bus.
He said the it was "75% completed" and should be operational by the new year.
The idea of a bus to house rough sleepers came to Mr Longsmith after he turned to Christianity following decades involved in crime and having spent time in jail.
"When I walk around Reading and see people in the doorways and they've got problems, drugs and alcohol issues, I thought 'how can I help these guys?'
"I can't change the world but we could do something quite easily. I thought 'a bus - put beds in it' - job done.
Work started on converting the bus at the start of December but a lack of volunteer trades people meant progress has been slower than anticipated.
"I'd love to get the guys now to put them on it, but there's nowhere for them to sleep.
"It's heartbreaking - we expected loads of people to come forward, like a Changing Rooms experience," he said.
Following donations from businesses, it is hoped to continue work on the bus in the week after Christmas.