Ufton Nervet road bridge opens 12 years after major crash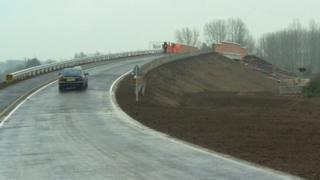 A road bridge built on the site of the Ufton Nervet level-crossing has opened 12 years after a major crash.
On 6 November 2004 a train from London Paddington collided with a car parked on the tracks at the crossing, killing seven and injuring 140.
There have been four more deaths at the crossing in the years since the crash.
The bridge cost £7m to construct and includes two earth banks to carry traffic up to the new crossing.
Survivor Jane Hawker said the closure of the old crossing meant the area can become "a peaceful country place again".
Mrs Hawker was one of two passengers to open the new bridge in a ceremony on Friday.
A Network Rail spokesman said the level crossing was "perfectly safe" if used correctly.
He added that the tragedies were a result of "misuse".
---
Analysis from BBC Transport Correspondent Paul Clifton
This is a quiet lane, it just goes to the small village of Ufton, which has developed a name and a reputation which has nothing to do with it being a pleasant, quiet Berkshire village because of that level crossing.
It is a uniquely emotive place. But on the traffic volume alone it wouldn't have justified replacing the level crossing.
There are plenty of crossings with higher risk rate. This place had a particular atmosphere because of that crash.
This was the reckless act of one man who changed the lives of so many others, it wasn't, if you like, a railway incident."
---
The people who died in the 2004 crash
Barry Stevens, 55, from Wells, Somerset
Anjanette Rossi, 38, from Speen, Berkshire
Her nine-year-old daughter Louella Main
Train driver Stanley Martin, 54, of Torquay, Devon
Emily Webster, 14, of Doccombe, Devon
Charlie Matthews, 72, of Warminster, Wiltshire
Brian Drysdale, 48, of Reading, Berkshire