Fake pedigree pet scams on rise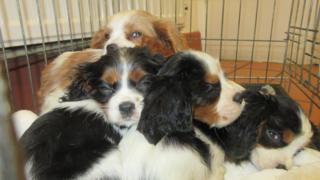 Increasing numbers of pet lovers are being duped by fraudsters falsely advertising animals as pedigree breeds, a council has said.
Officials in Berkshire have reported a spike in sales of ill or badly-treated pets being sold to unsuspecting owners.
Recently, 10 cocker spaniels were found living in "appalling conditions" in a house in Slough, having been advertised for sale for £550 each.
Four puppies were put down after testing positive for parvovirus.
Slough Council said the issue had been growing since September, with reports coming from five addresses in the town.
It also received reports of kittens being sold before they were ready to leave their mothers, and common breeds of cat being passed off as pedigree breeds at prices of up to £650.
'Devious' sellers
The council is considering taking legal action in some cases.
Council officer Ian Blake said: "People are sadly spending large sums of money on animals they don't know anything about.
"In some cases they are spending more on medical treatment than they are on buying the animal in the first place."
Mr Blake said in one case a buyer had spent £500 on a pedigree dog, which then needed £8,000 surgery to correct a birth defect which would have affected future litters.
The seller had used false paperwork relating to another dog.
He said reports like this were "becoming more common, with sellers operating in increasingly clever and devious ways".
Councillor Paul Sohal, said: "The best way to protect yourself - and ultimately help put these unscrupulous sellers out of business - is to only consider buying from a well-established licensed breeder and seller.
What to watch out for
Adult dogs being falsely presented as parents of puppies for sale
Dogs being advertised in one town but sold in another, or being transported from puppy farms to residential addresses to make them appear to be family-bred
Dogs being chipped using chipping and scanning kits bought online, but not registered
Extreme sympathy tactics being used on customers, including using buyers' children to pressurise parents
Cats being advertised before they're old enough for buyers to easily identify the breed
Fraudulent paperwork relating to breed or medical history.