Pedestrian dies in crash with car and bus in Reading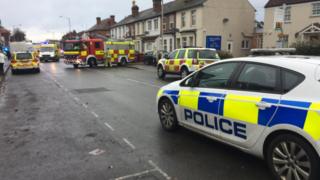 A woman has died after being involved in a crash between a car and a bus in Reading.
It happened at 13:15 GMT on Oxford Road. Two male pedestrians and the driver of a Ford Focus were injured.
One of the pedestrians was airlifted to John Radcliffe Hospital in Oxford.
The driver and the other pedestrian were taken to Royal Berkshire Hospital. Oxford road remains closed whilst police investigate.