WW1 medals awarded to Zena Dare to be auctioned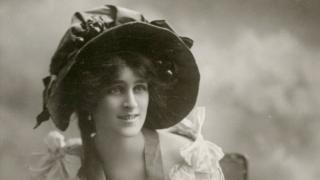 Medals awarded to a West End actress who nursed injured soldiers during World War One have been put up for auction.
Zena Dare was 29 when she left her home in Ascot, Berkshire, and joined the French Red Cross in 1916.
Dare, who worked with English actors John Gielgud and Noel Coward during her career, was awarded three medals honouring her service.
They are being sold on Thursday with an estimate of £1,000.
Dare, originally from Chelsea in London, made her acting debut aged 12 and went on to enjoy a career spanning six decades.
This saw her star in a string of Edwardian musical comedies and included her portraying Mrs Higgins in the original London production of My Fair Lady.
She took a 15-year break from the stage in 1911 to move to Berkshire and marry soldier Maurice Brett, the son of the 2nd Viscount of Esher.
Eager to help her husband with the war effort, the mother-of-three volunteered at the American Hospital in Paris where wounded servicemen were transferred from the trenches.
She stayed there for the remainder of the war before being awarded the Cross of the French Society for the Aid of Wounded Military.
Dare also received the British War and Victory medals.
These are being sold in London alongside her 1911 Coronation and 1938 Jubilee medals.
Will Bennett, spokesman for auctioneers Dix Noonan Webb, said Dare had been "largely forgotten" but that she had been a "big name" in the Edwardian era.
He said: "The conditions that she would have encountered in France would have been horrific, utterly different from anything she was used to, and it required considerable courage to do what she did."
Dare died in London in 1975 at the age of 88.