Aldermaston housing development 'will destroy historical parkland'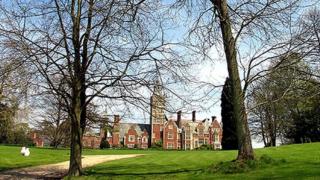 "Devastating" plans for a housing development on a medieval park should be turned down, conservationists say.
Up to 227 new houses are due to be built in Aldermaston Park, near Reading, Berkshire, as part of proposals "to restore its Grade II listed Victorian manor and grounds".
The Woodland Trust said the development would damage a historically important wood pasture and parkland.
More than 180 trees would be lost - some a hundred years old, it added.
'Only option'
According to the trust, the park was once used as a hunting forest by Saxon kings and William the Conqueror - who named it Windsor Forest.
Plans submitted to West Berkshire Council also involve taking down office buildings, restoring the gatehouses and formal gardens, managing deteriorating woodland and protecting ancient oak trees.
The Manor House would be converted into 23 apartments.
Developer Praxis Real Estate Management said the re-use of the site for housing was "the only option to secure the restoration of the heritage assets and the long-term future of Aldermaston Park".
But the Woodland Trust said it was a "complete contradiction" to suggest the remaining deer park could only be managed properly by building homes.
Jill Butler from the trust, said: "This is an unprecedented planning application in terms of the devastating impact on a historic wood pasture and parkland, which is an incredibly valuable wildlife habitat."
The area to be developed is home to bats, badgers, grass snakes and red-listed birds, but the developer said habitat would be retained where possible or replaced with new areas within the site.
Aldermaston was first recorded in the 13th Century, was a deer park until the 17th Century and is now considered by heritage experts to be an important 19th Century landscape with remains of earlier pleasure grounds.