Slough burglary: Armed gang robs woman at knifepoint as daughter slept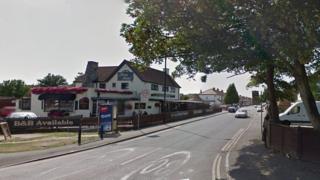 A woman was threatened at knifepoint by four men who broke into her house while her nine-year-old daughter was asleep in bed.
The burglary happened at 22:50 GMT on Wednesday in Grenville Avenue, Slough.
Police said the men forced their way into the property, threatened the 34-year-old victim with a knife, and demanded Asian gold jewellery.
She handed over what she was wearing, as well as some other items, and the men left through the front door.
The suspects were possibly eastern European, one was 5ft (1.52m), one was 5ft 4ins (1.64m), and one was 6ft (1.82m).
Det Con Sarah Noah said: "This was an extremely frightening ordeal for the victim, who was at home with her nine-year-old daughter at the time of the offence."