Wokingham park-and-ride plans approved despite objection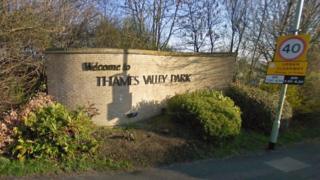 Plans for a £3.6m park-and-ride site in Berkshire have been approved, despite nearly 200 letters of objection.
Wokingham Borough Council passed plans for 277 spaces at an undeveloped site near Thames Valley Park, aimed at cutting congestion into Reading.
Rob White, a Green councillor for neighbouring Reading Borough Council, said losing the green space would be "a real loss"
Wokingham Council said residents would "barely notice" the car park.
Mr White said: "The scheme isn't going to make any difference to congestion or air pollution along London road.
"The growth in the number of cars, and the growth in usage of cars is just going to wipe out any benefit".
Councillor Tim Holton, the chairman of the planning committee at Wokingham Council said: "There is going to be substantial vegetation planting, hedges and trees, so you will barely notice, if at all, that the park and ride is there."