Southern England NHS trusts 'face £479m budget deficit'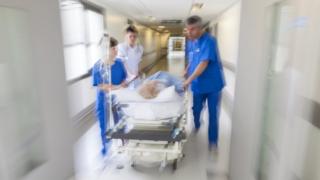 The NHS is facing a £479m budget deficit by 2020 in parts of southern England, a leaked report suggests.
A draft document proposes savings in Buckinghamshire, Oxfordshire and Berkshire West, including "increased use of healthcare assistants" in place of qualified nurses.
Reading Borough Council released the NHS document after expressing "serious concerns about transparency".
The NHS said the "efficiency" measures would "improve health outcomes".
'Workforce savings'
Publication of the Sustainability and Transformation Plan, drawn up by the Oxfordshire Clinical Commissioning Group, follows the revelation earlier this year that NHS England needs to save £22bn by 2020-2021.
The document outlines plans to make "workforce savings" of £34m and suggests creating a "staff bank" to reduce expenditure on agencies.
It also places emphasis on strategies to encourage residents to stop smoking and eat healthily.
Councillor Graeme Hoskin, Reading Borough Council's lead member for health, said the plans are "not very specific" and will result in "rationing of care".
'Unrealistic timescales'
He said: "If services are considered for relocation and residents are made to travel further to access health services, it is hard to see how those decisions can be properly debated."
Around 40 protestors gathered outside Oxford's County Hall ahead of a council meeting on Thursday morning to discuss the plans.
They chanted: "No ifs, no buts, no NHS cuts."
Former NHS chief executive Roy Lilley told the BBC he was "very sceptical" the savings targets would be met.
He said: "Can the NHS really save £22bn by 2020? The jury is out - not many people think it can."
This is the latest of the 44 plans to have been leaked by local authorities against the wishes of NHS managers.
A spokeswoman for the CCG said it is "expected to follow a national process set out by NHS England".
She added: "We plan to publish a summary later this month and, as the full plan requires further work, expect this to be published in early 2017 following agreement with NHS England."