Coburg gives Christmas tree to Windsor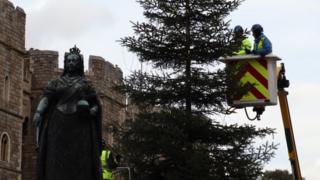 A Christmas tree grown in the same German forest as the first-ever festive fir has been given to Windsor.
The 40ft (12m) tree was donated by Coburg, the town where Prince Albert was born, and has been installed in the town centre.
The Royal Borough's tree is usually donated by the Queen.
Sayonara Luxton, the Royal Borough's mayor, said it was a "fitting" gift in the Queen's 90th birthday year.
She said: "I would like to offer a heartfelt thanks to our generous friends in Coburg and wish them a very merry Christmas."
The tree will be decorated with hundreds of handmade glass baubles designed to mimic the candles used on the first Christmas tree brought to England.
The Christmas tree tradition was popularised by Prince Albert and Queen Victoria in the 1840s.
The tree will be officially unveiled on Saturday.