Royal Berkshire Hospital parking: Council approves charges on nearby roads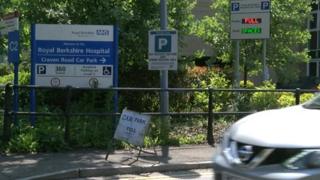 Plans to cut free parking on roads around the Royal Berkshire Hospital have been approved by the council.
Reading Borough Council have agreed plans to introduce pay and display charges on 625 spaces in the area and restrictions on a further 741.
The charges have been opposed by a petition of more than 8,000 signatures.
The petition, set up by hospital staff, described the scheme as "problematic" and said charging for parking at a hospital was "morally wrong".
Up to 360 spaces are currently available at the hospital, with parking charges ranging from £1-£12 per stay. Charges will now be extended to surrounding streets, where there is currently no charge.
Parking schemes will be introduced on Addington Road, Erleigh Road and other roads around the hospital, despite strong opposition from local residents, hospital staff and patients.
Clare Goulbourn-Lay, a Royal Berkshire Hospital midwife who set up the petition, said working in the NHS "would not be as attractive if getting to work is a struggle".
Reading Borough Council said it would work hard to introduce new park and ride schemes to the hospital and increase permit parking in the area to help frustrated residents find spaces.