CCTV images released after £130k accordion theft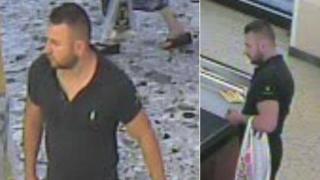 Police have released CCTV images after 40 accordions worth £130,000 were stolen from a music shop.
The images show a man wanted in connection with the burglary of The Piano and Accordion Shop in London Road, Sunningdale, Berkshire.
The offenders forced their way into the family-run shop between 16:00 BST on 7 August and 09:40 BST on 8 August.
The shop sells and repairs accordions with some said to be worth up to £12,500.
Thames Valley Police said they believe the man may have links to the Port Talbot area of South Wales.
Police said the CCTV appeal was issued more than two months after the theft as it had taken time for the footage to be obtained and reviewed.
Bev Lovell, whose accordion playing grandfather founded the company in 1927, said it had been a "highly professional" theft.
He said they had targeted top merchandise including expensive instruments handmade in Italy which could take up to a year to replace.
Mr Lovell said members of Britain's close-knit and "friendly" accordion community have rallied round.
One accordion fan wrote on the shop's Facebook page: "It is difficult to believe criminal activity such as this seemingly exists within the accordion fraternity."
A list of the stolen items - including a Cooperativa 508 Elite 120 Bass worth £9,995 - has been posted on the shop's website with the owners urging anyone offered any of the accordions to contact the shop.