Reading Ikea death: Man 'was working on hydraulic lift'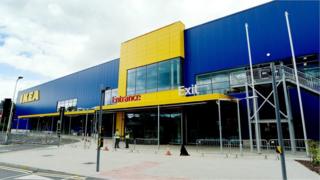 A contractor who died at an Ikea store in Reading was "undertaking works on a hydraulic goods lift", the store has confirmed.
The Swedish furniture shop has since reopened after being closed all day on 19 October.
Emergency services were called to the store, which first opened in July, at 02:30 BST.
Javier Quinones, the firm's deputy retail manager for the UK and Ireland, said an investigation was under way.
"We cannot comment any further on the cause of the incident until we have the results of an investigation being conducted by IKEA, the contractor, Thames Valley Police and Environment Health Officers," he said.
No arrests have been made. Thames Valley Police confirmed it was investigating a "workplace accident".