AWE staff balloted on strike action in pension dispute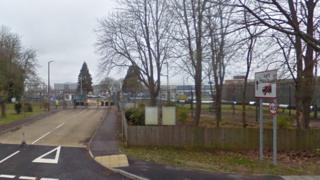 Staff working at a nuclear weapons factory in Berkshire will be balloted over whether to take industrial action over a pension dispute.
A union representing staff at the Atomic Weapons Establishment (AWE) at Aldermaston said the company had not improved its offer after months of consultation and discussions.
The company wants to replace its pension with a new one.
AWE said it had procedures in place to ensure the safety of its operations.
A spokesman said: "AWE continues to maintain a regular dialogue with its trade unions as part of the pension consultation process."
'No choice'
Prospect, the trade union representing AWE employees, said the new pension scheme would be worse than the one staff could currently join.
"Members are particularly angry because the guarantees that were given at the time AWE was effectively privatised have been reneged on and the significant sacrifices they have made over recent years to keep the defined benefit scheme open to all staff have been ignored," Richard Tabbner, Prospect negotiator said.
A statutory consultation period over the changes to pensions ended on 25 July and the company has been in discussion with unions since then.
Mr Tabbner said the company had left the union no choice but to ballot members over industrial action.
He called on the Secretary of State Michael Fallon to intervene, saying staff did not want to take action "that could impact on the UK's continuous at-sea deterrent".