Crowthorne stab death: Son's tribute to Jacqueline Pattenden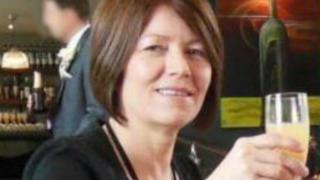 A woman who was killed at her home in Berkshire has been described by her son as an "amazing mother".
The body of 53-year-old Jacqueline Pattenden was found in a house in Ellis Road in Crowthorne on Sunday. She died from a stab wound to the chest.
A 55-year-old man found at the scene, also suffering from stab wounds, was arrested on suspicion of murder.
Phil Pattenden said his mother was "getting her life back" after a difficult year suffering from cancer.
He added "none of us had seen her happier, she had just come off her cancer medication, recently been promoted.
"To be taken away so soon just seems such a massive shame."
Det Ch Insp Ailsa Kent, from Thames Valley Police, said: "Although we are in the early stages of conducting inquiries, this is thought to have been an isolated incident and it is believed the victim was known to the offender."
The man remains under arrest and is currently receiving medical treatment.