Century-old Arthur Hill Baths in Reading set to close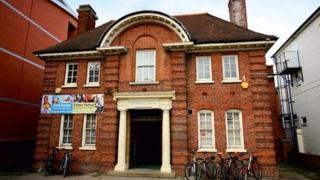 A 104-year-old swimming pool is set to be closed for good after a council said it could no longer afford repairs.
Reading Borough Council said it would need to spend £700,000 to bring the Arthur Hill Memorial Baths up to standard.
It said it planned to to shut the pool from 19 December and replace it with a new pool at nearby Palmer Park in three to four years' time.
The old building will be sold to help pay for the new facility.
'Limited lifespan'
The authority said the pool had been forced to shut a number of times for essential works.
Councillor Paul Gittings, in charge of sport, said: "Only a huge investment will allow it to remain open and unprecedented Government cuts means we are not in a position to invest money in ageing facilities with a limited lifespan."
Mr Gittings said the council would build a modern 6-lane swimming pool at Palmer Park Stadium, an existing leisure complex.
The council will consider the plans on 26 September.
The original 90ft (27m) pool was formally opened on 29 November 1911.
It had six individual hot baths for people who did not have them at home.
When World War One broke out, the council agreed to let soldiers quartered in the Reading area use the baths free of charge.
The building was donated to the town by the Hill family, in memory of Arthur Hill JP who was mayor of Reading four times between 1883 and 1887.