The Queen's pantomime costumes go on display at Windsor Castle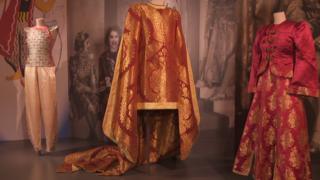 Pantomime costumes worn by the Queen and Princess Margaret in their youth are set to go on public display later.
The two princesses put on shows between 1941 and 1944 with the public in Windsor to raise money for soldiers during World War Two.
Outfits, including one worn by Her Majesty during a production of Aladdin where she played the male lead, will be on show at Windsor Castle.
The exhibition is one of three taking place at royal residences.
The display, held as part of the monarch's 90th birthday celebrations, also includes her wedding and coronation dresses.
The pantomimes helped raise money for the Royal Household Wool Fund which supplied knitting wool to make comforters and duvets for soldiers fighting in World War Two.
The costumes and dresses will be on show at the castle until 8 January next year. Other exhibitions are taking place at Buckingham Palace and Holyroodhouse.
One of the senior curators, Caroline de Guitaut, said: "Windsor Castle is very important to the Queen.
"It's been said that London is the office and Windsor is the home. [In the exhibition] you've got the formal side, the glamorous side, the evening gowns and state dresses, it's a little bit autobiographical.
"It's representative of different aspects of life at Windsor."