Reopening of Bracknell town centre delayed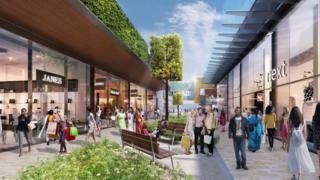 The reopening of Bracknell's town centre will be delayed by months as the organisers of the £240m regeneration revise their plans.
The Bracknell Regeneration Partnership (BRP) said last year the development, called the Lexicon, would be open by spring 2017.
But BRP said the official opening date would be 7 September 2017, to upgrade materials and buildings in the scheme.
BRP said 70% of retail space in the scheme had already been taken.
'Lots of interest'
A spokesman for the partnership said: "The opening has been rescheduled to coincide with the completion of the upgrading of some of the materials and buildings in the scheme, as well as the completion of new areas of public realm to ensure that the new scheme provides a totally new customer experience."
There are currently 600 people working on the site.
Development manager Simon Russian said: "While there has been some uncertainty in the economy over the last couple of months following the EU referendum, interest in the Lexicon from occupiers has remained strong."