Reading 'monstrous' flats developer unveils new plan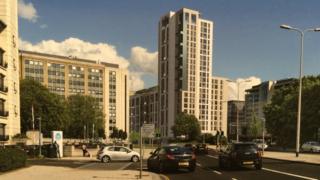 A developer that had permission to build three "monstrous" skycrapers in Reading refused has unveiled new plans.
Lochailort had plans for three 28-storey blocks next to Reading Railway Station turned down last year.
The company has scaled down its previous "foreboding and alien" 352-flat complex.
The firm said it had worked "extensively" with Reading Borough Council to formulate the new plans for 300 flats.
The newly proposed complex, called Thames Quarter, is described as a "sharp departure" from the previous proposals, which were criticized by the council.
Reading Borough Council said the previous proposed development "would be seen from almost every aspect of the water meadows, Christchurch Meadows and way beyond".
The new plans for the development in Kings Meadow Road are scaled down in height.