Bystanders 'foil jewellery shop raid' in Windsor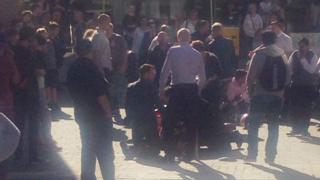 Bystanders are reported to have helped foil an armed robbery at a jewellery shop, tackling raiders as they smashed the shop window in Windsor.
One witness, Hannah Carrington, said the gang arrived on two motorcycles and used a sledge-hammer to try to break the window of Robert Gatward jewellers.
She said one bystander "squared up" to a man with the hammer.
Thames Valley Police said three people had been arrested on suspicion of robbery.
Ms Carrington said she heard "screaming and banging" before seeing "three or four guys with a sledge-hammer just bashing the window" in King Edward Court.
Police said a member of the public was taken to hospital for treatment following the incident although his injuries were not thought to be serious.