Third man arrested in rape and robbery investigation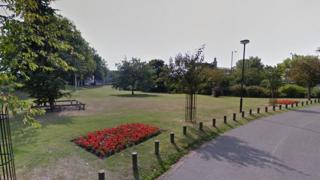 A 19-year-old man has been arrested on suspicion of aiding and abetting the rape of a woman in a park in Slough.
The man, who was arrested by police on 31 August, is the third to be arrested in connection with the rape and robbery of the victim on 17 August.
At 02:30 BST the woman, aged in her 40s, was walking in Salt Hill Park and was allegedly set upon by three men.
Cash and personal effects were stolen, and one of the men raped her.
On the day of the attack, a 20-year-old man from Slough was arrested on suspicion of rape and another man, also aged 20, was arrested on suspicion of conspiracy to commit robbery.
Thames Valley Police are appealing for any potential witnesses to come forward.