Reading Festival: Discarded tents salvaged for refugees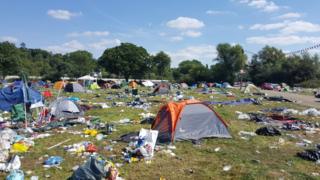 Some of the "tens of thousands of tents" left by festival-goers at Reading will be salvaged to and used by refugees in Calais, Greece and Syria.
Volunteers from refugee charities have been dismantling and repackaging tents in Berkshire after the three-day music event.
So far at least 200 tents and hundreds of clothing and tools have been salvaged.
They will be taken to Calais by volunteers.
'Need to educate'
Member of the Reading Refugee Response Hub Mo Saleh said festival-goers "need to be educated" about how their waste can be used by refugees in France, Greece and Syria.
He said: "We've had an amazing response of volunteers; the first day we had about 100 people in the salvage operation, and on Tuesday we've had about 20.
"It takes a long time to salvage stuff, about 15 and 20 minutes a tent, and a lot of the volunteers aren't experienced campers.
"Next year we're going to try and get the message out, tell parents to tell their children who come to the festival to pack up their tents so they can be sent to the refugees."
The tents will be taken to a refugee camp in Calais, known as the Jungle, where 9,000 people are known to live.
Many of those who live in the camp are people thought to have been displaced by the Syrian civil war, seeking asylum in the UK.
Mr Saleh, 37, a father-of-two and an IT consultant, was inspired to help refugees after harrowing images of Alan Kurdi - a three-year-old Syrian boy whose body was washed up on a beach in Turkey - received international press attention.
He said: "For us living in Reading, it's only a two-and-a-half-hour drive and you're in the jungle with refugees."
He goes either Calais or Dunkirk at least once a month, taking fresh food and supplies donated by the Berkshire community to volunteers at Calais Refugee Aid.
He added: "Next month the weather's going to turn in the Calais jungle, it's going to get a lot colder, it's similar to hear so the weather's not great.
"They're going to need shelter, clothes. These are people who are desperate, who don't know where their next meal is coming from."