Prudential staff in Reading vote for industrial action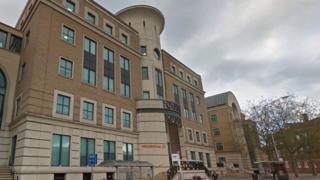 Workers at finance giant Prudential have voted to take industrial action in a row over moving jobs overseas.
Unite said its members based in Reading had backed action by 97%, saying 81 jobs would go by moving work to India.
The workers voted not to co-operate with the transfer of work, which Unite said would "severely delay" the move.
Prudential said it would hold talks to avert the action. It previously maintained pension reforms were forcing it to make cuts.
In May, Prudential began a consultation with pension staff at its Reading office over proposals to make about 80 permanent roles redundant.
'No business sense'
Unite regional officer Ian Methven said they had been "left with no choice" but to take strike action action in order to protect their jobs.
He said: "These proposals make no business sense at all. The cost savings are questionable and the risk to customer relations is great.
"There are alternative ways of saving money in this area and we urge Prudential to think again about the offshoring of this skilled work."
A Prudential spokesman said it had already secured alternative roles for 20 people out of the initial 80 affected, and expected further opportunities to emerge over the next eight months.
"We have contingency plans in place to ensure that there is no impact to the service we provide to our customers," he added.
The company previously told how it had experienced a "fall in the demand for [pension] products in favour of more flexible retirement income solutions, post-pension freedom reforms.
Before government reforms in 2015, retired people who had paid into a pension pot would have one chance to buy an individual annuity, run by finance companies.
Since George Osborne's pension freedom reforms, recently retired people can use the money as they see fit, and do not need to purchase an annuity.