E-fit released 25 years after Langley teenager raped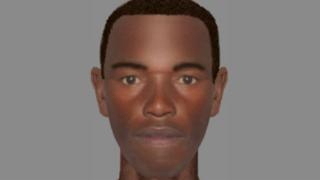 A woman who was raped when she was 13 believes she came face-to-face with her attacker in a cemetery 25 years later.
The woman, now in her 30s, was raped by a stranger in an alleyway in Langley, Slough, in 1991.
Police have issued an e-fit of a man who approached the woman and made derogatory comments to her in Slough Cemetery last month.
Thames Valley Police has urged anyone with information to come forward.
The sex assault happened off Grampian Way between 7 March and 14 March 1991 and was reported to police in 2013.
The suspect was described as being about 19-years-old, of stocky build, with broad shoulders and dreadlocks down to his chin. He was wearing jeans, a t-shirt and a leather jacket.
On 26 July this year the woman was walking through Slough Cemetery, off Stoke Road.
She told police the man who approached her was the same person who raped her as a child.
He is described as in his 40s and black, with a shaved head. He was wearing a black t-shirt, dark blue stonewashed jeans and wearing sunglasses on top of his head.