Work on Reading FC training ground stalls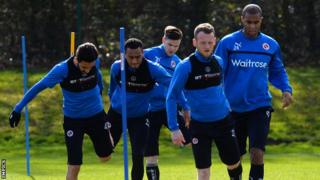 Building for a new training ground for Reading FC, which was approved last year, has not broken ground yet, according to one of the club's owners.
Sumrith Thanakarnjanasuth, one of a Thai consortium to take over the club in 2014, said the new training ground plans were still being finalised.
Speaking to the BBC after the Royal's 1-0 win over Preston North End, he said final details were being worked over.
The club bought land in Bearwood Park for the training ground in 2013.
Mr Thanakarnjanasuth said: "It's a bit delayed because the plans are not settled yet, there's been a lot of change, but we look forward to building that up.
"The drawing, even the location and the number of pitches, has not been settled yet, but we're working on that now."
The Championship football club received planning permission to build on the 120-acre site in 2015.
It was hoped the facility would be ready by 2016.