First 'real tennis' court since 2008 opens in Berkshire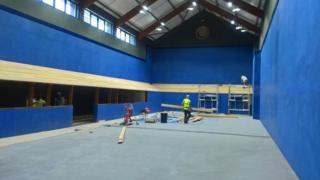 The first "real tennis" court to be built in England for eight years has opened.
The sport, also known as court tennis or royal tennis, is the forerunner of the modern tennis game and is played on a court containing a roofed gallery.
The new facility, at Wellington College in Berkshire, cost more than £1.5m to build.
The Tennis and Rackets Association said it was mostly paid for by individuals who made "six-figure" donations.
Chief executive Chris Davies said indoor real tennis courts were "incredibly expensive", partly because of the strength of the walls needed to withstand a heavier ball.
He said "six or seven" enthusiasts, including alumni of the private school, had donated six-figure sums.
England's last real tennis court was opened in 2008 at another private institution, Radley College.
The new court in Crowthorne will be open to the general public and will be used to host national youth tournaments.
England has around 5,000 real tennis players and Wellington College will be the 27th active court.
---
Real tennis
The sport can trace its origins to the game of hand-ball played by the early Greeks and Romans
It is thought to have been a favourite sport of monks in the Middle Ages, when rackets began to be introduced
Real tennis was played by King Henry Vlll on a court at Hampton Court Palace
There are nearly 40 types of serve including the giraffe, the hunting dog and the bobble
Points can be scored by hitting nets around the court including the grille, the winning gallery, which rings a bell, or the dedans
Real tennis balls are solid and must weigh at least 2.5 ounces (71 grams)
(Source: Tennis and Rackets Association)
---