Warfield ditch body identified after 12 years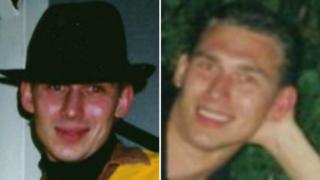 A murder victim whose remains were found in a ditch by workmen has finally been identified - almost 12 years after he disappeared.
The body of Aivaras Danilevicius was discovered in July 2015 in Warfield, Bracknell.
He disappeared in late 2004 and is thought to have been killed in a different location before he was dumped in the village between 2008 and 2013.
Mr Danilevicius was identified through a DNA match.
'Wrapped in bin bags'
In December, investigators linked the victim's DNA to a Lithuanian woman through an international database.
After Thames Valley Police contacted the country's authorities, the force found Mr Danilevicius had been registered as a missing person, and there was a DNA sample on the country's database.
The victim's family has since come over to speak to investigators.
It is thought Mr Danilevicius came to the UK in 1996, and spent most of his time in the London area.
Investigators believe the man, who had strong links to London's gay scene, was killed in late 2004 and his remains were dumped in the ditch in Hawthorn Lane some years later.
His remains were wrapped in bin bags and a blanket, which made the body hard to identify.
A post-mortem last year showed evidence that he died from a "blunt force trauma to the head".
Police want to speak to anyone who might have known Mr Danilevicius, especially members of London's gay community, before he was murdered in 2004.
Det Sgt Paul Quinton said: "This may help us to understand better the circumstances surrounding his murder and potentially assist us in identifying the offender or offenders responsible for his death.
"Aivaras' family are desperate to find out what happened to their loved one."