Reading traffic plan 'will ruin unspoilt area'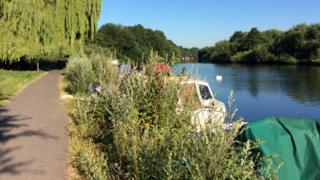 Plans to ease congestion in Reading by building a public transport route and park-and-ride would ruin a "lovely unspoilt area", critics have claimed.
The East Mass Rapid Transport scheme includes a new river bridge and will be linked to a new park-and-ride on land next to the Thames in Wokingham.
Reading borough councillor Brenda McGonigle said the scheme "would move the pollution to the riverside".
Deputy council leader Tony Page said it would cut congestion into Reading.
Ms McGonigle, Green councillor for Park ward, said: "The car park would be about five metres from the river where it will clearly have a detrimental effect on aquatic life, flora and fauna.
"The plans include the pedestrian and cycle route, which we already have - it's called the towpath - and it's used all day every day by walkers, cyclists and runners."
Tim Crooks, who lives near the proposed transport route, said: "We love living here because of this green lung. We would think very seriously about moving if it were to go ahead."
Mr Page, Labour, said: "We are very conscious of the environment down there and the need to minimise the impact.
"We simply cannot funnel hundreds and thousands more cars into Reading. We have to look at alternatives."
A consultation on the plans ends on 16 August.