Work on £36m Thames Valley Science Park begins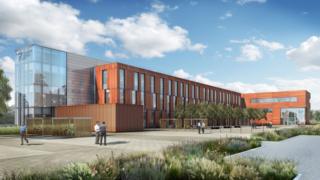 Work has started on a £36m science park which is set to employ 5,000 people.
Development on the Berkshire-based Thames Valley Science Park began on Wednesday after a bridge over the M4 opened for construction traffic.
The 42-acre site, funded by Reading University, will include laboratories and conference facilities.
The first phase of the project will cost £36m to complete, while expansion over the next 15-20 years will cost a further £100m.
Director of Reading Science Park, David Gillham, said: "Three months ago this was a farmer's field. This has been a long-term ambition of the Reading University to develop of science park.
"It's of benefit to us in terms of collaboration [with businesses] and future employment for our students.