Ex-Reading chief Zingarevich in £17m embezzlement probe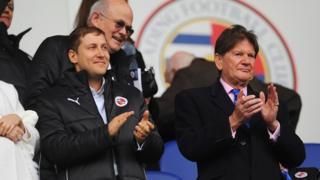 A former majority shareholder of Reading FC is being investigated for allegedly embezzling £17m, reports say.
Anton Zingarevich was a 51% stakeholder in the championship club in 2012, but suddenly departed in 2014 before the club was bought by Thai owner.
According to Russian newspaper Kommersant he is accused of fraudulently using loans to finance ice hockey club Atlant Moscow Oblast.
He is accused of using a money from a loan meant for his energy company.
Kommersant claims the allegations are being investigated by the Russian ministry of interior affairs, and include Mr Zingarevich's business partner Konstantin Shishkin.
The paper's report claims a 1bn rouble (£17m) loan was granted to the pair's energy company, Energostroyinvest Holding, but it is alleged cash was used in part to shore up the ice hockey team while some was transferred to offshore accounts.
Mr Zingarevich did not attend a single match in the 2013-2014 season and, although he was a majority shareholder, former owner Sir John Madejski took over the day-to-day running of the club in February 2014.
A Thai consortium led by businesswoman Khunying Sasima Srivikorn took over the club in July 2014, which Sir John claims " effectively saved Reading".